FREE! Here's an "Easy to Follow" System for selling your house fast and for Top Dollar that works in any market condition, including this one. If we do not buy your house from you right away, this book will show you how to sell it for EXACTLY what you want.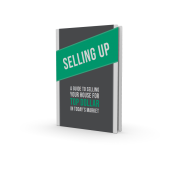 Give Me Your Best OFFER and my FREE Ebook Please
Complete this short form and we'll contact you to get more info about your property PLUS we'll send your FREE copy of "SELLING UP: A Guide To Selling Your House For Top Dollar In Today's Market."
The Secrets To Selling
Let us show you a few "secrets" to selling your house for TOP dollar in today's market
Fair Offer, Quick Close
We'll also make you a very fair, ALL cash offer and can close quickly, often less than 30 days.
Get Your FREE Report
Get your FREE report, packed with tips and tricks for selling real estate in today's market